Farmers
---
Punk Jazz? Nick Drake inspired psychedelia meets Funkadelic?
Cowboy noise? Taiwanese Disco Cover Band? One big mess?
Sure.
| | | |
| --- | --- | --- |
| | Another group of Dharma Bums, Farmers played in San Francisco during the early 1980's providing yet one more alternative to a scene already overflowing with alternatives. The band started out with Vudi on guitar and vocals backed by his brothers Popeye and O.P., Tim Vaughan played drums, Scary Larry played pedal steel for a bit, Mike Helland and Bill Sparks played Sax and B.S. played Keyboards (mainly Rhodes and Mini Moog). Sluggo played percussion on occasion, Frankie G sang and Jeff Hirano played guitar in the band's later incarnations. Farmers played the usual SF area clubs (the Fab Mab, On Broadway, Chi Chi Club, Sound of Music, Berkeley Square, etc.) and some parties and one nighters that remain lost in a fog. Farmers released a four song EP "Packed in an Urban Area" and a cassette "Tragic Tales of Life" as well as a couple of demos. Sadly the recording of "Chad and Dahomey" a 12 minute noise/funk/rap tune never got finished. Rap? In 1980? Well sure, we were listening to a bit of Kurtis Blow at the time... | |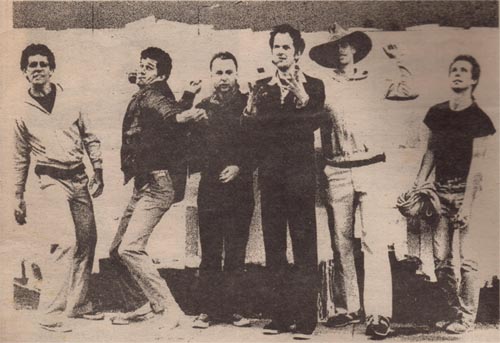 | | | |
| --- | --- | --- |
| | Vudi had a unique visual sense as well, and produced a number of striking posters for the band, usually grainy black and white pictures that could be funny and gruesome at the same time (one poster was the famous shot of the corpse of Mussolini hanging upside down in barbed wire - with the picture inverted he looks like he's doing a very macabre dance). The cover of the EP "Packed in an Urban Area" featured a crisp black and white photo (by SF photographer Bobby Neal Adams) of horses being slaughtered in an abattoir. | |
Vudi wrote some great tunes, from the hilarious "Stucco Man" (two demo versions) to the beautiful "Frozen Lake" (from "Packed in an Urban Area") and "Green Borders" (from "Tragic Tales of Life"). Brian wrote some tunes as well, and collaborated with Vudi and Tim Vaughan on others. It was hard picking a few representative tunes, mainly because a lot of the tunes never got recorded well, and Vudi was the main voice, but as this is site devoted to the music of B.S., we've narrowed it down to these two:

Robophelia (demo tape)This is an early rap effort by B.S. and features one of his trademark moog wank-offs
Fuckin' B (from Tragic Tales of Life) Featuring Franke G. on Vocals, this was the second effort in the Fuckin' song cycle (Fuckin' A, Fuckin' B and Fuckin' C)
Listen to Farmers
Broadband? Click on a green button for streaming audio.
Dial up? Click on a red button to download an mp3 file for each song.
Click here for questions/problems.
(note, due to space considerations, these files are reduced in fidelity)
Take me home
Fine Print dept: the cübists, and all graphics and sounds on this site © 2002, Brian Schindele/Fishtank Productions.
Robophelia © 1981 B. Schindele, Fuckin' B © 1983 T.Vaughn, B. Schindele and V. Maximus. All Rights Reserved.