the moral
---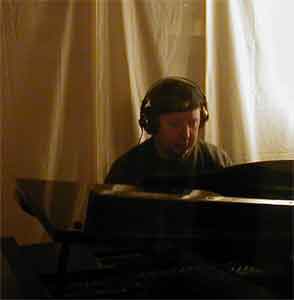 ...so a couple of years ago, I started toying around with finale (something I've been doing for fun and profit for around 6 years now) and the Sammy Nestico Big Band Arranging book (highly recommended). I was working on an idea for a tune, the germ of which dated back to when I was playing in Zooma Zooma. Larry, the bone player, had been walking behind a homeless person. He describes them as smelly and filthy, with cooties jumping off their hair and yet the person was repeating the phrase "Everybody's Jealous" in a tuneless sing-songy voice. We all had a laugh kicking this around for a couple gigs and then forgot about it. Except I didn't forget, and with my usual rapidity ("demonstrated" so many times by coming up with the perfect riposte a day late) I came up with the tune a year later. The original idea was to record it and some other big band things in the winter of 2004, but in the fall of that year, I was diagnosed with a rare form of cancer. A couple of operations later (knock on wood, things are cool right now) and I decided to record the tune along with some originals in a quintet setting. We had a couple of rehearsals with Tim, Kurt and myself, and one run through with the whole quintet. I got together with Connie the night before the session and she learned the vocal part. Everything was recorded live except "Everybody's Jealous", which was done by overdubbing (quintet live and all additional horns and the vocal were overdubbed). I wouldn't recommend this method, but it came down to time and money and a lack of both convinced me to try it.

We recorded the quintet on 12/13 with Tom and Connie coming in on the 14th. We had a few mixing sessions afterward (Larry played on one of them, some time in January 06) all at San Pablo Recorders (Berkeley), with Dale behind the controls. It was mastered on 2/7/06 by Ken Lee in Oakland.
| | | |
| --- | --- | --- |
| | | |
| Dave Scott | Sheldon Brown | Tim Vaughan |
| | | |
| Kurt Ribak | Tom Griesser | Dale Everingham |
Not pictured: Connie Champagne and Larry Leight.
| | | |
| --- | --- | --- |
| | This CD contains around a little under 40 minutes of original jazz tunes, that range from the straight ahead title track (the moral) to the dirge-like obitchyouairy, the Trane inspired depressions and Connie's wonderful voice singing everybody's jealous. It's a lot of work putting together a project like this, so I'd like to thank the musicians who played on this CD, Dale for engineering and staying upbeat, working quickly and having great ears, Ken Lee who is the master of mastering and the folks at disc makers who answered my stupid questions. Props also to the posters on the finale forum, from whom I've learned a lot. Of course, a special tip o' the hatlo hat goes to those folks who called or visited while I was laying on a hospital bed or shuffling around my apartment. It meant a lot. | |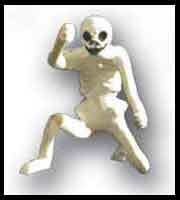 1. the moral [7.22]
2. geography [5.24]
3. short letter, long farewell [4.48]
4. obitchyouairy [7.18]
5. depressions [8.41]
6. everybody's jealous [5.42]
As for the title, and the skeleton man, I'll leave you to figure it out for yourself.
take me home
contact
fine print dept: the cübists, and all graphics and sounds on this site © 2002, all songs on the moral © 2005. brian schindele fishtank/sf productions. all rights reserved.